Fundraisers
How many of you love fundraising? I'm guessing the answer is very few! But unfortunately, it is an important part of any non-profit organization. It cost money, and sometimes quite a bit of money, to do all the things that make Pathfinders an enjoyable, educational, and spiritual experience for our young people. We have many dedicated volunteer staff who try to make fundraising as easy and fun as possible and below we share with you some of the ones we have done or will be doing.
Fundraiser #1
The Bible Achievement Team went to a local nursery and created planters featuring autumn plants. The kids had a lot of fun choosing the plants and working in the dirt and at the same time gaining some "gardening" experience as they arranged the plants to design unique planters. The beautiful planters bursting with colorful fall blossoms provided a cheery welcome for those who purchased them and placed them on their porches.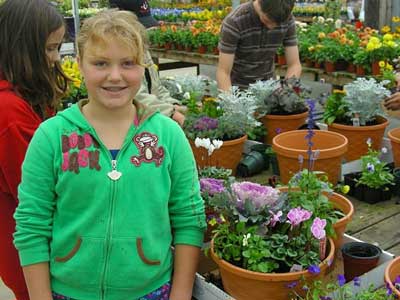 Fundraiser #2
Garage Sales always seem to be a big hit with the church family as well as the community. As you can tell from the photos, the kids had a great time modeling some of the donations.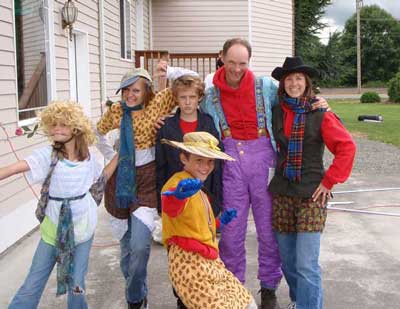 Fundraiser #3
When it comes to selling products, personalized items seem to have the edge over generic items. For Oshkosh 2009, the Cascade Eagles put together a cookbook called Eagle Chow. It showcases the favorite recipes of the club members as well as many from the church family. We used Cookbook Publishers to design and print the cookbook: www.cookbookpublishers.com. If you'd like a copy of our Eagle Chow cookbook, please contact us.
Fundraiser #4
Hold a Talent Show or Drama and Music Program: Have the Pathfinders, staff, and parents put on a benefit program with skits and musical selections. Members of our club have used this multiple times with varied success.
One musical program featured the 2008 Cascade Eagles Bible Achievement Team. The program highlighted what the team studied by having each team member recite from memory their favorite chapter from the Gospel of Matthew. In addition to the reciting, each team member also presented a musical selection. The musical selections included violin duets, solo piano, clarinet, and flute. A basket was available for those wishing to make a donation to help with travel expenses. It was a wonderfully, spiritual experience for all attending.
Fundraiser #5
Here's another non-selling idea -- host a 5K Fun Run. Our Adventist school hosted a Fun Run and the entry fee was almost 100% profit since volunteers supervised the course and provided water at a couple places along the course. Those wanting a T-shirt paid extra. The t-shirts displayed the school name and event on the front and listed local business sponsors of the fun run on the back. To view the registration form used and the information notice, please follow these links: Fun Run Information and Fun Run Registration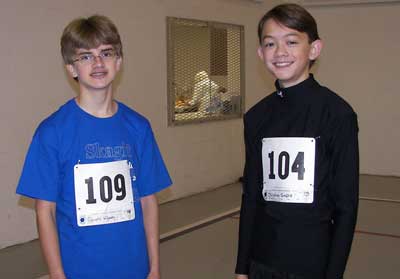 More Fundraising Ideas
We will be having more fundraisers as the year progresses and we'll post them as they happen.
For fundraising ideas from previous years or other clubs, please follow this link: More Pathfinder Fundraising Ideas
Have a great fundraising idea?
Please contact us with your ideas and we will post them here. Thank you!